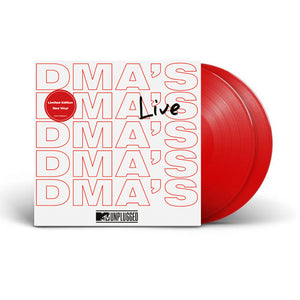 180g Double Vinyl.

DMA'S are set to release a limited edition red vinyl pressing of their 'MTV Unplugged Live' album on January 21st 2022. It was recorded at Melbourne's intimate Memo Music Hall last October, with DMA's becoming one of the first Australian bands to play the iconic MTV Unplugged session. It's a format steeped in history following classic sets from Nirvana, Oasis, R.E.M. and many more.

Renowned for their ragged, anthemic energy often inspired by the Britpop and Manchester scenes, 'MTV Unplugged Live' finds DMA'S stripping their songbook back to basics. Focusing on acoustic guitar, piano, violin and cello, these new arrangements unveil fresh new perspectives on the songs. Some now carry a folk vibe, while others hone in on the poignancy of the band's lyrics.
Side A

Feels Like 37
Lay Down
Time & Money
Emily Whyte

Side B

In The Air
Warsaw
Beautiful Stranger
The End

Side C

Lazy Love
In The Moment
Health
Step Up The Morphine


Side D

Delete
Do I Need You Now?